OUR PRODUCTS
We are humbled to be able to offer a wide variety of products that consumers like you can trust to always taste delicious. Our commitment to growing with love means that our farmers care about our plants, the environment, and you. Our greenhouse provides protection from pests, weather and other negative factors that often effect produce crops. This allows us to offer truly clean produce because we never have to use harmful chemicals like pesticides, herbicides or fungicides. Our vertical growing system features a micro climate around each plant giving it exactly what it needs to grow best so that we never have to use genetically modified seeds or plants to keep up with demand. We hand pick and pack all of our produce into clamshells made from recycled materials that can then be recycled again once you're done with your salad.
Now you can enjoy fresh produce that tastes good, is healthy for you and the environment too. Enjoy!
A crisp blend of sweet baby butter leaves. Our bright green baby butter heads grow in our vertical system for 28 days before being hand picked and packed. Each plant is cared for by our loving farmers to ensure that it has the right amount of nutrients, light and water.
A tender, flavorful blend of locally greenhouse grown kale. We harvest our kale while the leaves are still soft and supple bringing you a taste that you won't forget. Each kale leaf is carefully harvested and packed by hand so that you'll fall in love with every forkful.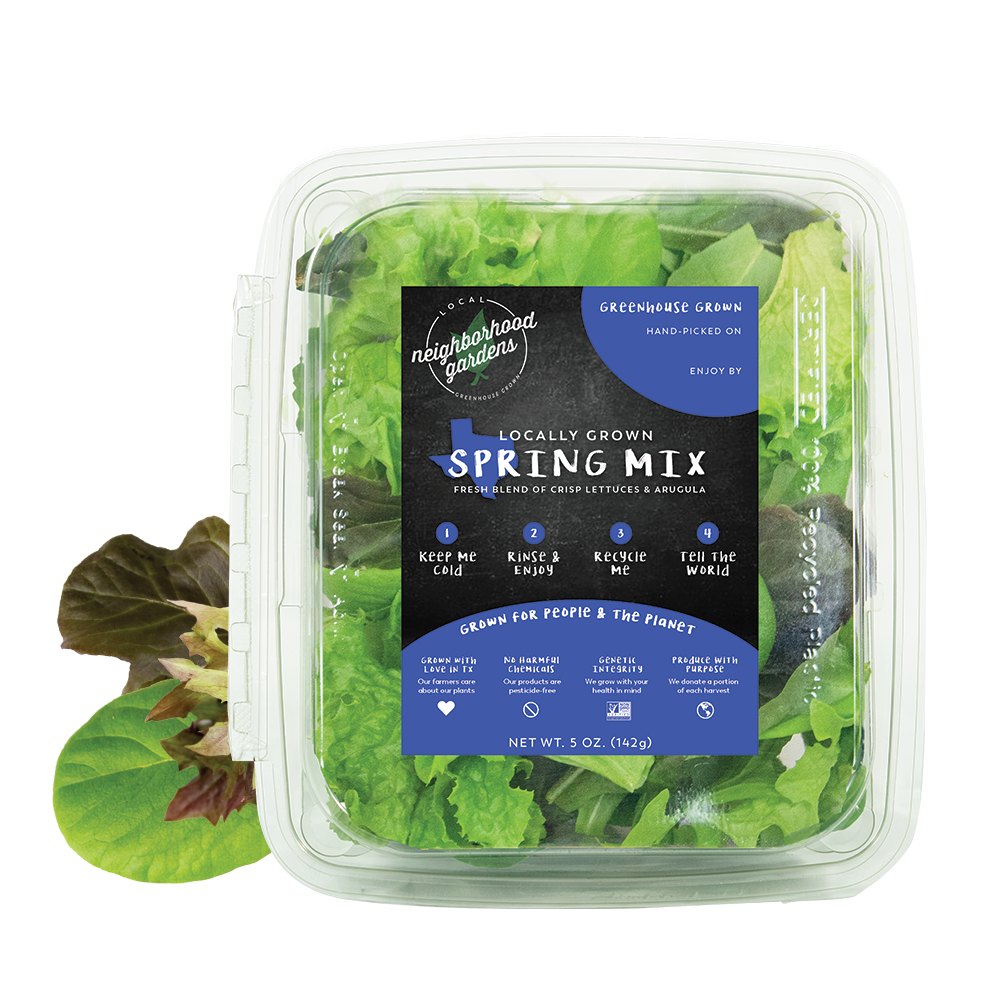 A refreshing blend of sweet leafy greens featuring our bold, peppery arugula. Our spring mix is made up of the perfect balance of lettuces and herbs so that you can experience the taste of Texas in every bite.
A rich blend of dark leafy greens. This is one of our most popular mixes as it combines our tender kale and spinach with a delicious blend of Asian greens.
Our fresh, tender spinach is the perfect base for any tossed salad or dinner recipes. Enjoy the refreshing taste of tasty, greenhouse grown greens that are available on shelf faster than traditional field grown produce.
OUR FAVORITE VARIETALS
Click on a head of lettuce to learn more.